Advanced Surgical Kit
| | |
| --- | --- |
| Description | Part Number |
| Advanced Surgical Kit | 260-101-095 |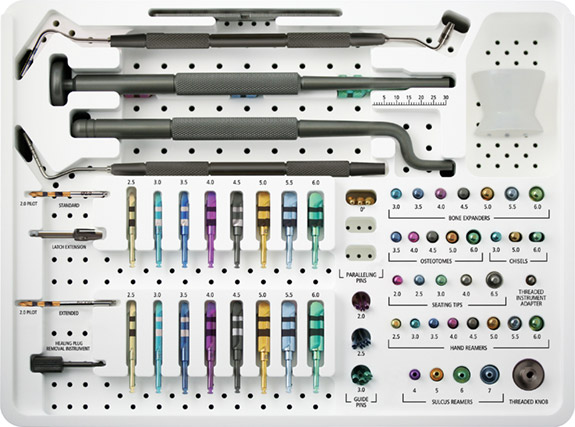 | | |
| --- | --- |
| Description | Part Number |
| 2.0mm Standard Pilot Drill | 260-101-001 |
| 2.0mm Extended Pilot Drill | 260-101-002 |
| 2.0mm Implant Inserter/Retriever | 260-101-005 |
| 2.5mm Implant Inserter/Retriever | 260-101-007 |
| 3.0mm Implant Inserter/Retriever | 260-101-006 |
| Threaded Offset Handle | 260-101-009 |
| 5.0mm Threaded Knob | 260-101-014 |
| Threaded Straight Handle | 260-101-016 |
| 2.0mm Implant/Angled Abutment Seating Tip | 260-101-010 |
| Standard Abutment Seating Tip | 260-101-012 |
| Large Abutment Seating Tip | 260-101-019 |
| 2.5mm Implant Seating Tip | 260-101-258 |
| 3.0mm Implant Seating Tip | 260-101-018 |
| Removal Wrench | 260-101-017 |
| Threaded Instrument Adapter | 260-101-020 |
| Latch Reamer Extension | 260-101-022 |
| 2.5mm Hand Reamer | 260-101-025 |
| 3.0mm Hand Reamer | 260-101-030 |
| 3.5mm Hand Reamer | 260-101-035 |
| 4.0mm Hand Reamer | 260-101-040 |
| 4.5mm Hand Reamer | 260-101-045 |
| 5.0mm Hand Reamer | 260-101-050 |
| 5.5mm Hand Reamer | 260-101-055 |
| 6.0mm Hand Reamer | 260-101-060 |
| Healing Plug Removal Instrument | 260-101-114 |
| 2.5mm Standard Latch Reamer | 260-101-125 |
| 3.0mm Standard Latch Reamer | 260-101-130 |
| 3.5mm Standard Latch Reamer | 260-101-135 |
| 4.0mm Standard Latch Reamer | 260-101-140 |
| 4.5mm Standard Latch Reamer | 260-101-645 |
| 5.0mm Standard Latch Reamer | 260-101-650 |
| 5.5mm Standard Latch Reamer | 260-101-655 |
| 6.0mm Standard Latch Reamer | 260-101-660 |
| 2.5mm Extended Latch Reamer | 260-101-325* |
| 3.0mm Extended Latch Reamer | 260-101-330* |
| 3.5mm Extended Latch Reamer | 260-101-335* |
| 4.0mm Extended Latch Reamer | 260-101-340* |
| 4.5mm Extended Latch Reamer | 260-101-345* |
| 5.0mm Extended Latch Reamer | 260-101-350* |
| 5.5mm Extended Latch Reamer | 260-101-355* |
| 6.0mm Extended Latch Reamer | 260-101-360* |
| Depth Gauge/Bone Depth Plugger | 260-101-370 |
| Abutment Shoulder Gauge | 260-101-380 |
| Silicon Dappen Dish | 260-103-030 |
| Advanced Surgical Tray | 260-104-993 |
| Paralleling Pin 0˚ (2) | 260-701-001 |
| Paralleling Pin 15˚ (1) | 260-701-053 |
| Paralleling Pin 25˚ (1) | 260-701-054 |
| 2.0mm Guide Pin (2) | 260-101-180 |
| 3.0mm Guide Pin (2) | 260-101-183 |
| 2.5mm Guide Pin (2) | 260-101-186 |
| 4.0mm Sulcus Reamer | 260-101-440 |
| 5.0mm Sulcus Reamer | 260-101-450 |
| 6.5mm Sulcus Reamer | 260-101-465 |
| 7.5mm Sulcus Reamer | 260-101-475 |
| Healing Plug Cutter | 260-801-001 |
| Abutment Carrying Forceps | 260-801-002* |
| Surgical Mallet | 260-801-165 |
| 3.0mm Bone Expander | 260-901-430* |
| 3.5mm Bone Expander | 260-901-435* |
| 4.0mm Bone Expander | 260-901-440* |
| 4.5mm Bone Expander | 260-901-445* |
| 5.0mm Bone Expander | 260-901-450* |
| 5.5mm Bone Expander | 260-901-455* |
| 6.0mm Bone Expander | 260-901-460* |
| 3.5mm Osteotome | 260-901-535 |
| 4.0mm Osteotome | 260-901-540 |
| 4.5mm Osteotome | 260-901-545 |
| 5.0mm Osteotome | 260-901-550 |
| 6.0mm Osteotome | 260-901-560 |
| 3.0mm Threaded Expanding Chisel | 260-901-613* |
| 5.0mm Threaded Expanding Chisel | 260-901-615* |
| 6.0mm Threaded Expanding Chisel | 260-901-616* |
*Items not included in the Comprehensive Surgical Kit.
Comprehensive Kit Plus Considerations
A pilot drill should be replaced after approximately 12 surgeries.
Latch reamers may be used for up to 200 surgeries without replacement.
It is advisable to have a spare pilot bur, a spare set of latch reamers, and a spare set of handpieces.
The tray may be sterilized at temperatures up to 275° F (135° C).