Drill Unit & Handpieces
| | |
| --- | --- |
| Description | Part Number |
| Electric Drill System (Universal)* | 260-028-150 |
| Motor for Drill Unit | 260-028-425 |
| 20:1 High Torque Handpiece | 260-028-201 |
| 20:1 Low Torque Handpiece | 260-028-202 |
*Only the 20:1 High Torque Handpiece (260-028-201) is necessary when using this drill unit.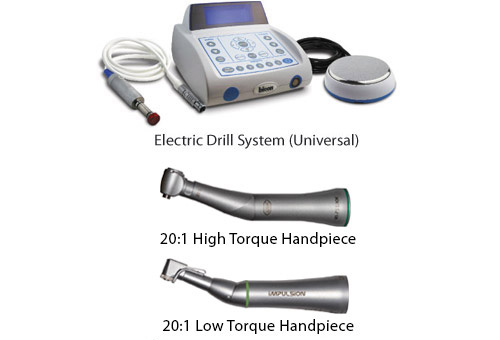 Handpiece Considerations
The 400:1 handpiece has sufficient torque to cut through bone at 50 RPM.
The 20:1 handpiece is designed to be used with the pilot drill at ~1,100 RPM with external irrigation.
Irrigation is not necessary at speeds of 50 RPM or lower.
Failure to observe speed limitation may result in burned or overheated bone which could result in substantial bone necrosis.
The 20,000 RPM Air Motor attaches to conventional four hole dental tubing and is an alternative to the electric drill unit.
Air pressure of at least 80 PSI is recommended to drive the air motor with sufficient torque in dense bone.
Proper maintenance of handpieces is crucial for long term success of handpieces. See reference.
Do not exceed 135°C (275°F) when sterilizing.
In order to prevent discoloration and/or damage to the plating of the handpieces from chemicals that are not sufficiently cleaned from other instruments, do not autoclave the handpieces with other instruments.
Always check the handpiece for any abnormal vibration, heating, noise, or sluggish operation. If any abnormality is noticed, cease the use of the handpiece.